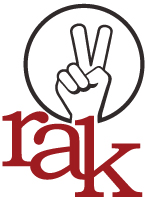 Show Us Your Random Act of Kindness and WIN
Maybe you secretly paid for a stranger's gas.
Perhaps you gave your Christmas gifts to someone who lost her job.
We hope this Spread The Positive movement will inspire you to "RAK 'Em Up" with NEW and CREATIVE Random Acts of Kindness (RAK)
In fact, if you witness or are a part of a Random Act of Kindness, please SHARE it with us. Every RAK is entered into a drawing to win prizes.
****This is a textbook example of a "RAK". It does not have to be big or well done. It can be a video recapping what happened or a "RAK" you witnessed. We are not picky. There will be good prizes. Submit now to spreadthepositive@gmail.com, the form below or any of our social media platforms.
Please follow the official "RAKEMUP" Instagram page here: http://instagram.com/rakemupofficial