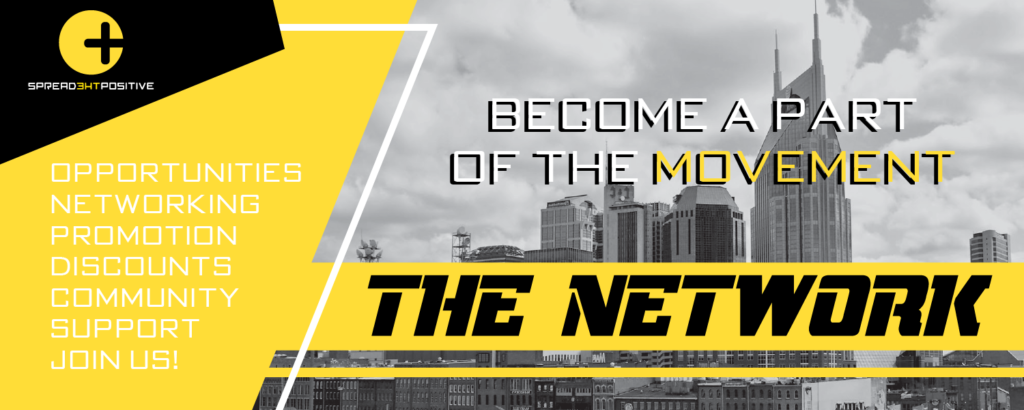 The Spread The Positive Network consists of individuals, businesses, organizations, companies, non-profits and more that all believe in the overall mission of Spread The Positive. They also meet a few simple qualifications that align with everything we are building with our brand. This network will create opportunities for members to cross-market with our platform and be identified in the community as "Spread The Positive" approved. We are looking to build a network of honest, ethical, positive, optimistic members that all believe in facilitating the work we are doing with Spread The Positive. We would greatly appreciate your consideration in joining the movement. Thank you.
The Qualifications
Ethical and transparent business practices.
Treat employees and customers the "right" way.
Philanthropic ties to the community and/or beyond
Overall good reputation. Reviews, word of mouth,
*All approvals for members of the network are finalized and approved by Spread The Positive.
Cost: $100/year
Perks/Incentives
Co-marketing opportunities
Referral/Rewards network with fellow members
Promotional package to display at place of business (digitally and physical)
Podcast opportunities (be a guest or sponsor for the podcast, copy of audio files to distribute as member desires)
Merchandise discounts
Creating opportunities for "RAK em Up" prizes and incentives
Supporting the mission
Membership Inquiries
Network Members
STP Approved Nonprofits
–Christy Brooks: LivEmpowered
–Ladawna Parham: Nourish Food Bank
-Joel Bigelow: Endure Athletics
Services
–Dana Womack: State Farm Insurance
-Lee La: Individual/Business Consulting
-Sharon Davidoff: Sharon's Eco-Cleaning
-Gabriel Frazier: Frazier Agency (Farmers Insurance)
-Andy Zotti: Budget Blinds of Murfreesboro
-Ronnie Martin: Pinnacle Financial Partners/Murfreesboro City Council
Marketing/Web Development
-Britney and John Mark Binkley: Cloud Cycle
-Dean Heasley: Nashville Marketing Systems
-Pete Adams & Travis Swann: Adams & Swann
-Josh Griffin: Creative Boro
-Missy Lay: My Wild Goose Chase
-Doug Trovinger: Document Doctors
-Jerremy Newsome: Real Life Trading
–Shannon Rizzo: Global Girl Life
-Jen Poulson: Jen Poulson Consulting
–Adam Cole: See Adam Cole – Adam Cole Construction/Actor
-Becky Lanham: The Warehouse Event Space
-Joel Laird: Joel Laird Agency
–David Bowes: Individual/Business Consultant
-Scott Kimberly: The Law Office of W. Scott Kimberly
-Kevin and Kari VanHeulen:  840 Inspections
-Elizabeth Sawyer: Priority Staffing
–Tony Murrell: 360 Inventory Solutions
-Kelli Beam: Rutherford County Chamber of Commerce
-Russ Hensley: Ranger Home Improvement (no website needed when you do the quality of work he does and stays booked out 6-8 weeks in advance)
-Laura Dahl: Music City Experts
-Dalen Farmer: Dalen Farmer, Attorney At Law
-Troy Hayes: OxiFresh Carpet Cleaning
-Lauren Simpson: Chrysalis
Destinations/Businesses
-Brody Miller: Urban Orchard Cider Company and Bar
-Jared Dauenhauer – Murfreesboro Escape Rooms
-Angela Rankin Whitesell and Diane Jobman: The Wig Boutique and Studio 7 Salon
-Ozzy Nelson: Mayday Brewery
-Keval Sheth: Tree City Wine and Spirits
Health and Wellness
-Sarah Ryman: Three Rivers Family Dentistry
-Dani Dyer: Dani D Fitness
-Kara Kemp: Tangerine Salon and Spa
-Annelise Werme: Serendipity Massage and Wellness
-Amy Grimes: Float Alchemy
-Dr. Jon and Dr. Korey Sheridan: Come To Life Chiropractic
-Dr. Jae Hitson: Transformation Life Centers
-Dr. Jen Massie: Jenergy For Life